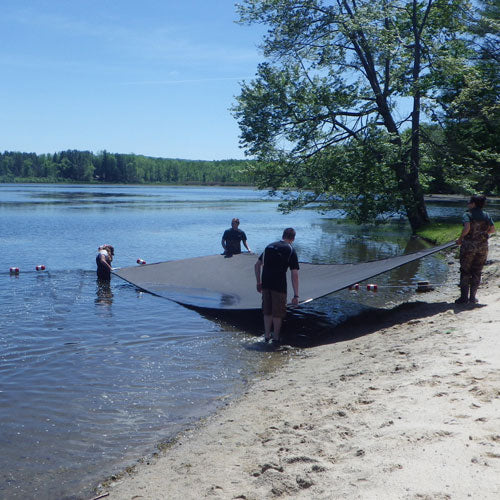 FREE SHIPPING
The benthic Barrier is the perfect solution for suppressing troublesome aquatic plants that obstruct boating and swimmers. This lake bottom barrier is constructed of professional-grade nonwoven fabric and is typically framed and anchored to the bottom of a lake to block the sun and stop aquatic vegetation growth.

This fabric blanket can be placed directly over existing vegetation on the lake bed. As the plants beneath biodegrade gas bubbles will rise and push up on the fabric blanket making it is important to frame the benthic barrier with wood and have it weighted down and anchored so that it doesn't move out of place and become an issue for swimmers or boat navigation.  

The barrier will need to be monitored 1 to 2 times a month to ensure large gas bubbles aren't trapped or have moved the barrier. The frame may need to be lifted to let the gas "burp". You can also make some cuts in the fabric to help release any trapped gasses. This maintenance becomes less of an issue once the existing plants have broken down.

A barrier like this can be built and installed by a property owner. The ideal time to install a benthic barrier is in the winter or when the plants have died back seasonally. This timing makes installation easier, however, should you need to install this in the summer or peak growth season then it's advisable to first prune and cut back the existing vegetation.